Quick, when I say "Costa Rica" what immediately comes to mind? Chances are that for many of you, stunning beaches filled with sand, surf, and incredible sunsets are high up on the list of things you imagine. Now, when I ask you "what are the best beaches in Costa Rica?" chances are you have limited reference as most of us haven't explored the entire country. So, we've taken the liberty to pull together a list of some of our favorite beaches to get you excited to explore even more!
North Pacific Coast
Nacascolo Beach
This secluded beach is located on the Papagayo Peninsula — home of large resorts such as Andaz Papagayo and the Four Seasons and is known for its white sand, clear water, and scenic views.  You get to this secluded beach best by kayak.  Once there it's private, relaxing, and magical!  (as are all the beaches on the Papagayo Peninsula) Tip: pack in all you need as there aren't any bodegas/minis nearby.
Location: Papagayo Peninsula, Guanacaste
Popular activities: kayaking, paddle boarding, snorkeling
Tamarindo Beach
Coined by locals at "Tamagringo", this is probably the most popular surfing and nightlife destination in Guanacaste.  While you will see surfers from all over the world hanging out in town, know that the surf is great for beginners (I took lessons on the beach) but local spots are known to be quite challenging for those more advanced.  This is also a great beach to take a sunset cruise, snorkel, or take ATV rides along deserted beaches.  Tip: there are a lot of things for sale on this beach, from tame tourist trinkets to drugs — so be careful.   
Location: Guanacaste
Popular activities: surfing, snorkeling, ocean cruise, ATV, hiking, nightlife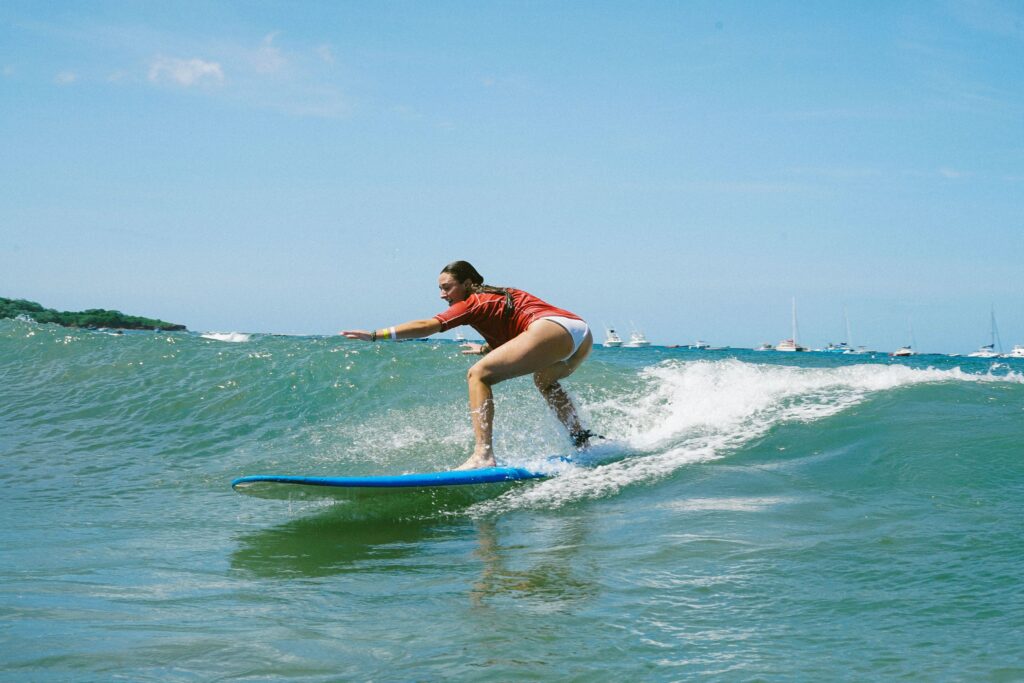 Playa Conchal
Not as well known or crowded as Tamarando, this Guanacaste beach is postcard worthy — with perfect turquoise surf breaking onto the sand and crushed shell beaches surrounded by lush tropical forest.  Accessed near the Westin Playa Conchal, this beach also has a good number of rental properties.  And come ready to snorkel as the coral beds are teaming with life!
Location: Guanacaste
Popular activities: surfing, snorkeling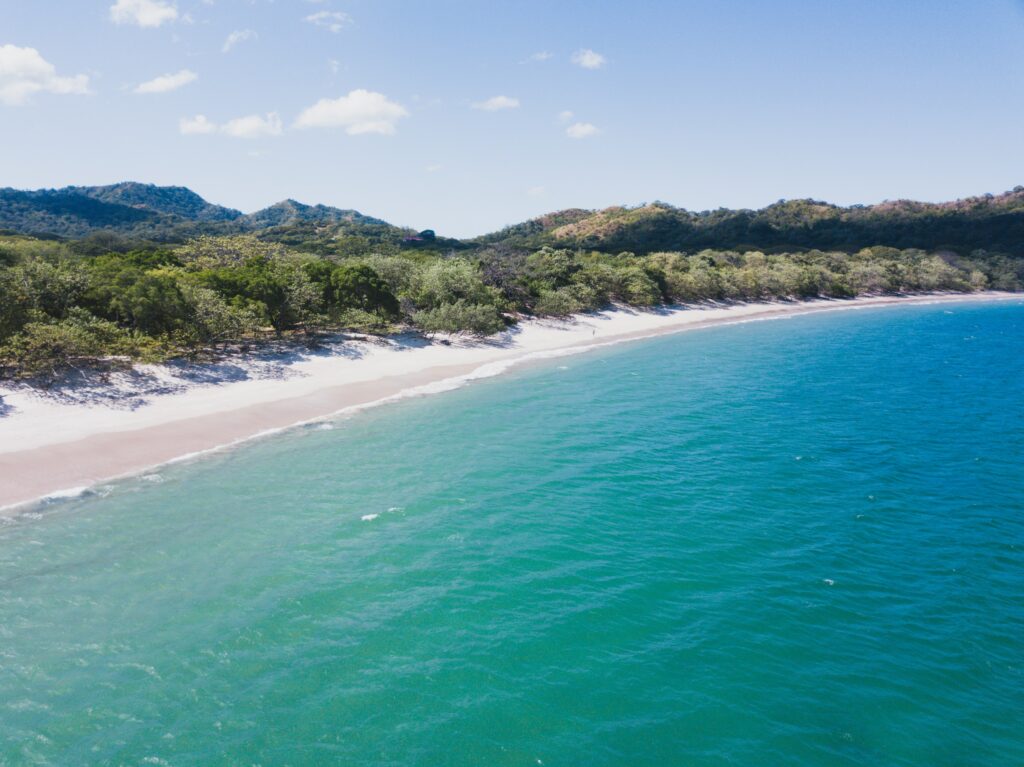 Playa Flamingo
Known for incredible sunsets and the pinkish-hue sand that gives the beach its name, Flamingo is a resort beach with many hotels on the cliffs overlooking the beach.  While not as nightlife and tourist-shop laden as Tamarindo, this beach caters to families on vacation — be it for a long weekend away from the city, or down from an international destination.  
Location: Guanacaste
Popular activities: kayaking, paddle boarding, surfing, snorkeling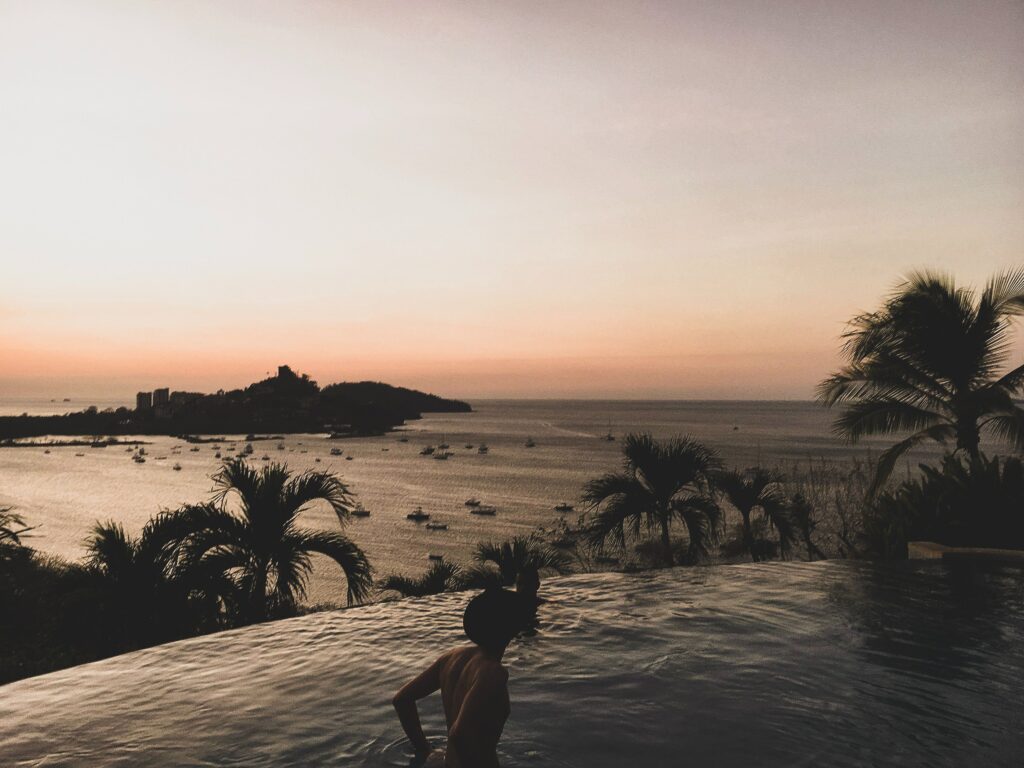 Montezuma Beach
Some call this a bohemian beach, others just call it laidback. Located at the southern end of the Nicoya Peninsula, this isn't a surfers' beach, nor swimmers (too rocky) but it's incredible in low tide for tide pools, and the sunsets cannot be beat! And the town is a lot of fun at night.
Location: Nicoya Peninsula
Popular activities: tide pools, relaxation, sunsets, nightlife
Santa Teresa Beach
This long, sandy beach is located on the Nicoya Peninsula and is known for its laid-back atmosphere and great waves for surfing. It's also a popular yoga retreat destination. The beach is one of many in Nicoya that is both well known yet less touristy than the beaches in Guanacaste.
Location: Nicoya Peninsula
Popular activities: surfing, yoga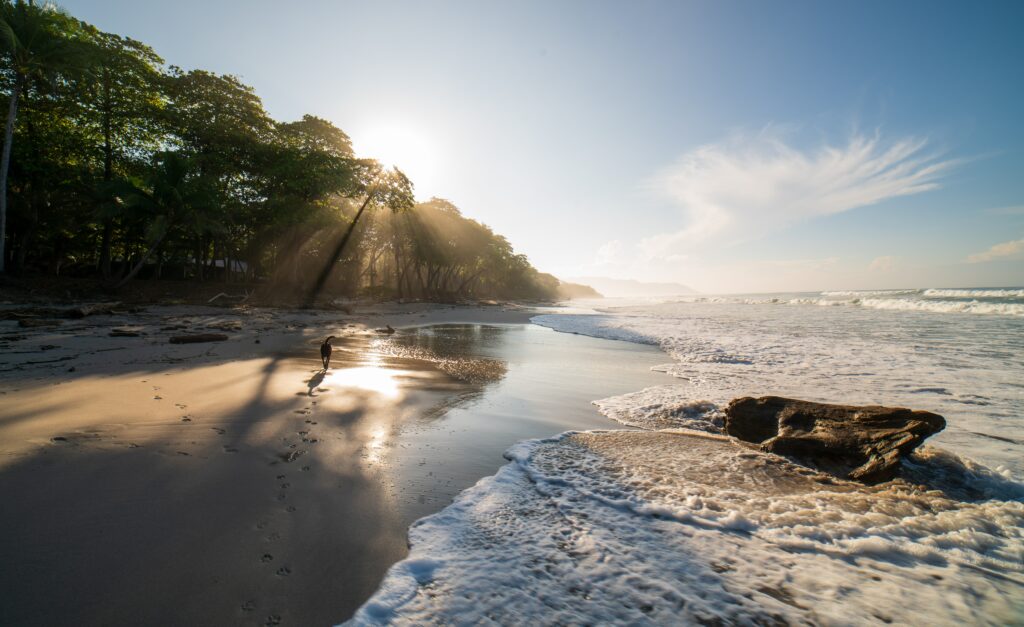 Central Pacific Coast
Costa Ballena (Whale Tail)
One of the gems of the southern Pacific coast, Costa Ballena comprises Uvita & Hermosa Beaches and the peninsula that juts out into the pristine Pacific Ocean. While the name of these beaches comes from the visual of a whale tail when seen from above, it's also one of the Humpback Whale's breeding grounds! It's also well known as a sea turtle breeding area. So when you come, make sure you book a whale-watching tour or plan around a turtle hatching.
Location: Punta Uvita / Marino Ballena National Park
Popular activities: whale watching, kayaking, paddle boarding, snorkeling, turtle hatching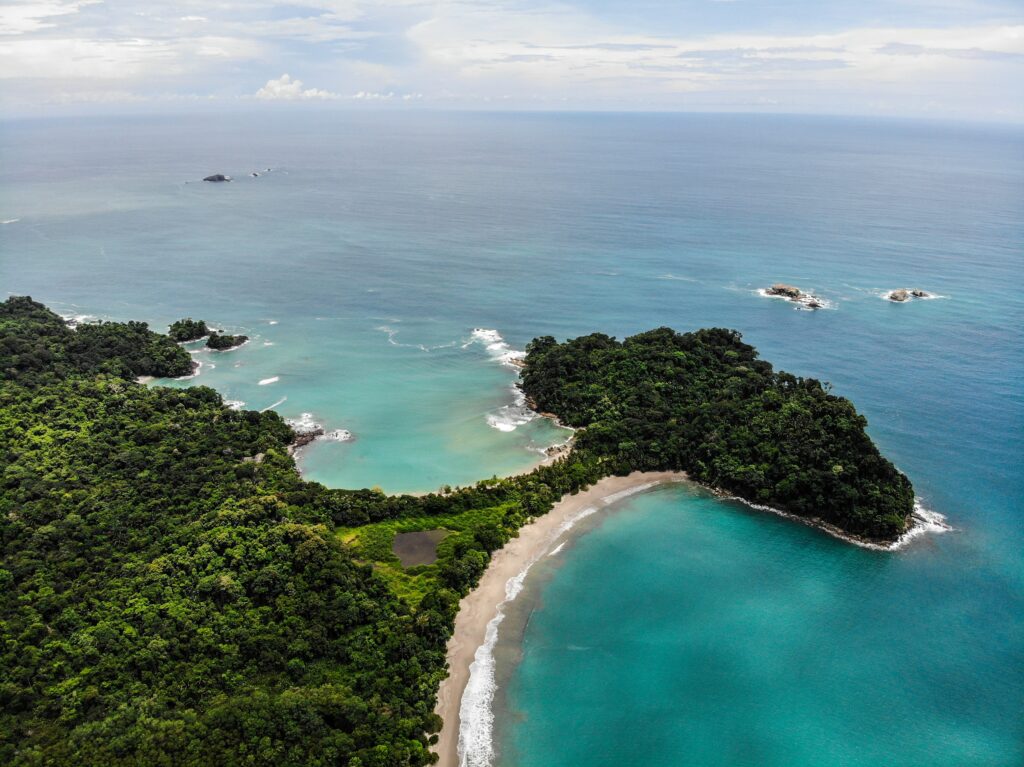 Manuel Antonio Beach
Located a short 30-minute hike from the entrance of Manuel Antonio National Park, this is one of the most well-known stretches of beach in Costa Rica. With coral reefs and great breaks, this beach is a popular destination for snorkeling, surfing, and true beach relaxation. Tip: lock up your valuables in the car or keep just keys on you and rest in car, as the curious wildlife are known to come close. And this beach is known for its clear blue waters, white sand, and lush jungle surroundings.
Location: Manuel Antonio National Park
Popular activities: surfing, hiking, snorkeling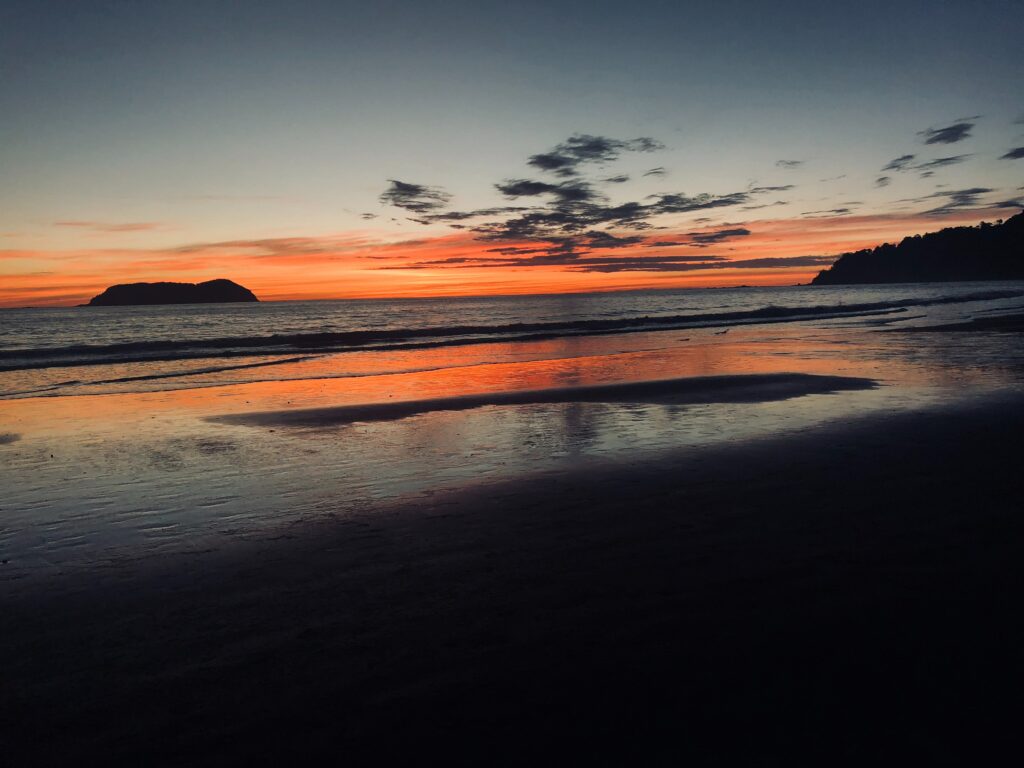 South Pacific Coast
Dominical Beach
Fun fact: this is the only beach in Costa Rica with a year-round lifeguard. Why? Because while far south and a bit isolated, this beach should be on everyone's bucket list. While well known by surfers, there's enough to make this a great couples or family destination as well as those looking for the perfect wave.
Location: Dominical
Popular activities: surfing, fishing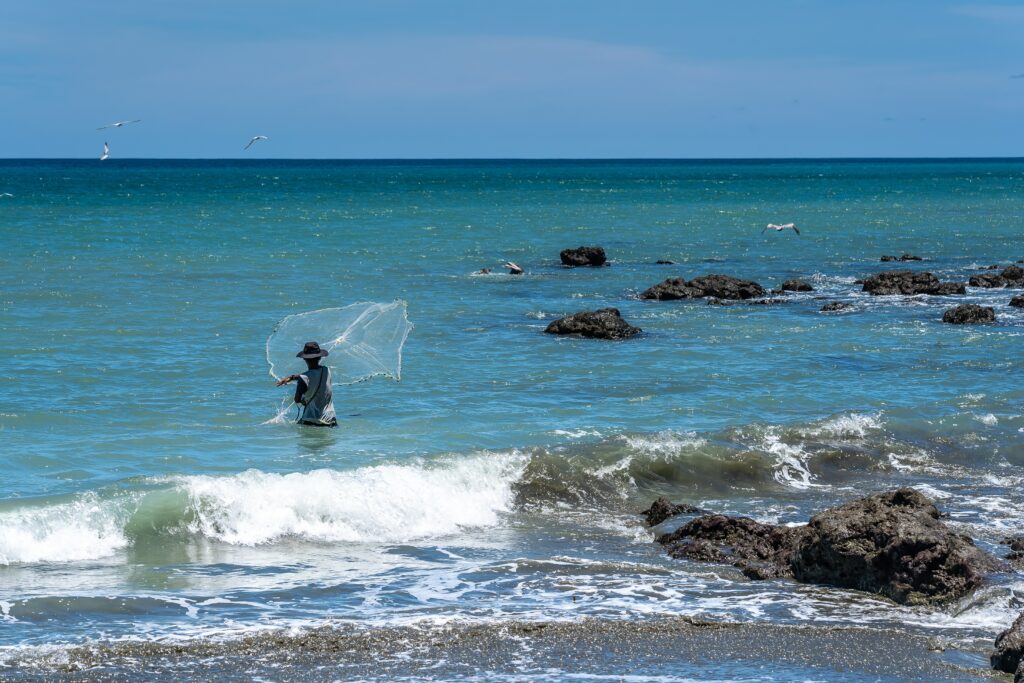 Caribbean Coast
Puerto Viejo de Talamanca / Punta Uva / Manzanillo
Situated on the southern Caribbean coast lies a stunning stretch of beach between the town of Puerto Viejo de Talamanca to the north, and Manzanillo Beach to the south. Afro-Caribbean energy infuses the region and beaches with a laidback, easy vibe. The beaches are long and clean, and the water a stunning turquoise blue and calm. Paddleboarding, snorkeling, diving, and kayaking are just a few of the water sports, while hiking, enjoying the towns and culture, and a trip to the Jaguar Sanctuary are just a few of the non-beach activities. The area abuts the massive biodiversity of Refugio Nacional Gandoca-Manzanillo's dense jungle filled with every kind of animal you think of when you think of Costa Rica (sloths, monkeys, parrots, toucans, more monkeys, iguanas, etc.).
Location: Caribbean Coast
Popular activities: snorkeling, surfing, kayaking, paddle boarding, hiking, jungle trekking, diving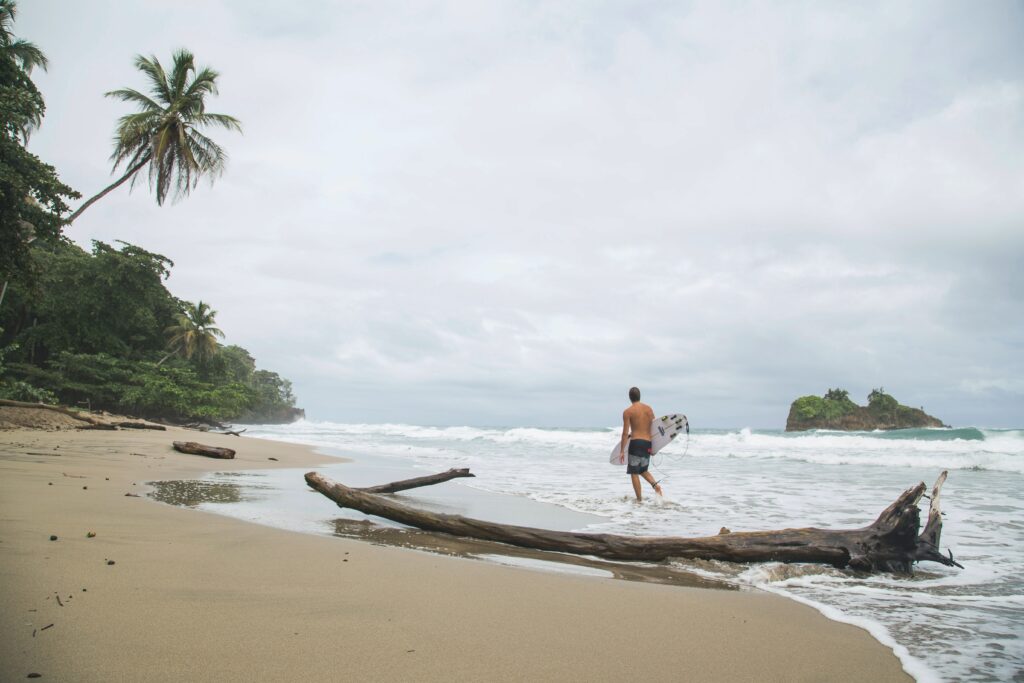 ---
As always, this isn't meant to be THE list, just our list. But we know it's not complete so we want to hear from you. What would you add? What would you take off? And what activities changed your perspective? Just remember: when you're on the beach: wear sunscreen.
And as always: Pura Vida!