Putting together a "top" list on any subject in Costa Rica is a challenge. With an incredible array of waterfalls to choose from, this list is no exception. But as Your Pura Vida is designed to support internationals who are focusing on living — and living well — in Costa Rica, we've culled from our favorite guides and personal experiences to give you a great sampling of waterfalls across the country.
La Fortuna Waterfall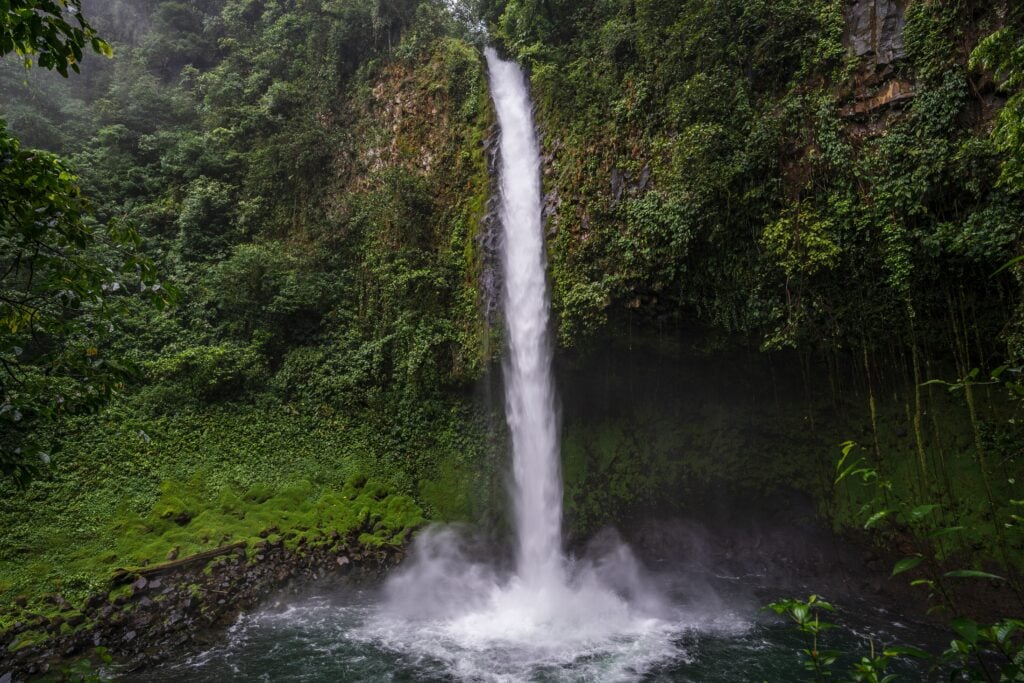 Located near Volcano Arenal, this is one of the most popular waterfalls in the country — not only for the beauty and accessibility, but because of all the activities in the region. Creating an adventure-filled day trip in the area is easy to do: hiking, horseback riding, zipline, canopy tour, hot springs, fantastic cuisine — all are options to fill an incredible day! This stunning waterfall is located near the Arenal Volcano and is one of the most popular tourist destinations in the country. And yes… you really do hike down 500 steps to reach the falls, which are surrounded by lush jungles and are perfect for swimming and hiking.
Location: La Fortuna
Costs: Admission
Difficulty: Easy/Moderate
Rio Celeste Waterfall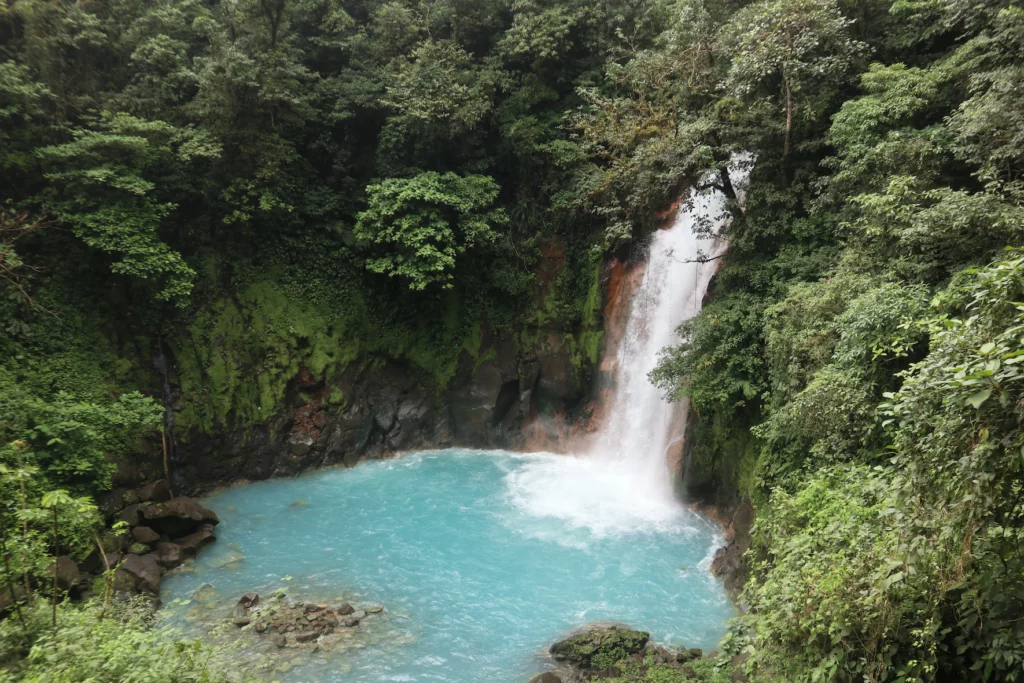 This waterfall is located within Tenorio Volcano National Park in the northwestern Guanacaste region and is renowned for its hypnotic blue color and tropical surroundings. The water's hue comes from the water flowing through minerals deposited from the volcano and the rainforest. While enticing, swimming is prohibited because of the minerals, but selfies are encouraged!
Location: La Fortuna
Costs: Admission
Difficulty: Moderate
Oropéndola Waterfall
This scenic waterfall is located within Rincon de la Vieja National Park, and can be entered via the grounds of Hacienda Guachipelín (Liberia). Yes, you need to pay to get in, but the setting and the incredible emerald water are worth it!
Location: Liberia
Costs: Admission
Difficulty: Easy
Llanos de Cortez Waterfall
Located a half hour from Liberia, this is another of Costa Rica's most stunning waterfalls. Unlike many others, this isn't as much a waterfall as a wall of waterfalls. It's a short (albeit steep) hike from the parking lot to the waterfall. It's worth it, but pack water.
Location: Between Liberia & Bagaces
Costs: Parking + Donation
Difficulty: Easy
And a couple that aren't as "big" but are popular with the locals and located in Central Valley:
Montezuma Waterfalls
Located on the Nicoya Peninsula near the town of Montezuma, many believe this set of three (upper, middle & lower) waterfalls to be the most famous in the country. Hiking, swimming in the pools, and sunbathing are just a few reasons locals and tourists alike flock to the site. Other popular attractions include the Sun Trails hanging bridges (which allow you to access the falls at more than one point), farmer's markets, and canopy tours.
Location: Montezuma
Costs: Admission and Parking (depending on where you park/enter)
Difficulty: Moderate
Bajos del Toro Waterfall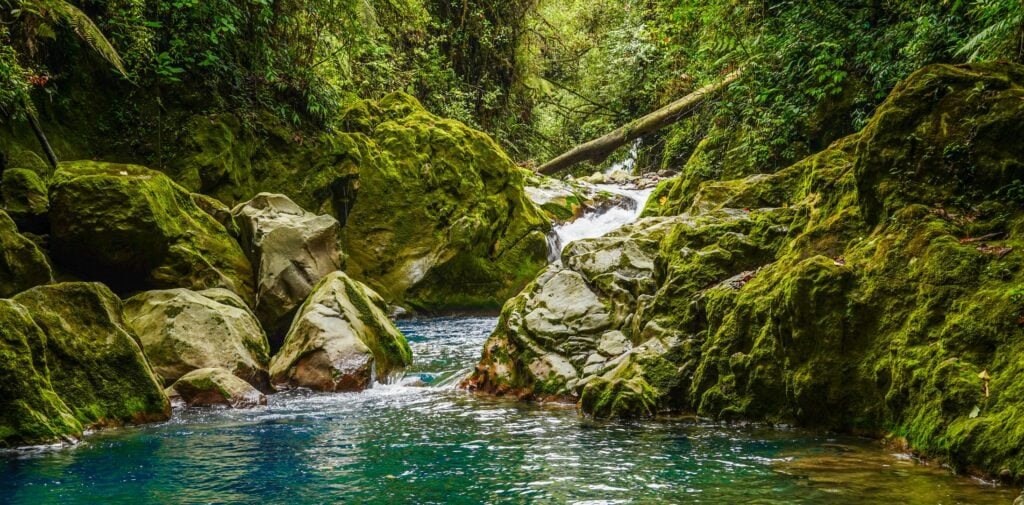 This waterfall is located in the valley between Poás and Rincon de la Vieja Volcanoes, in the Central Valley region. The area is surrounded by lush green cloud forests. It is a popular spot for hiking and bird watching.
Location: near Poás Volcano
Costs: Admission
Difficulty: Moderate
La Paz Waterfall Gardens
While many "look" at the falls from the road while driving in the Cloud Forests between Alajuela and Arenal, going into this site is worth a stop. This isn't one waterfall, but as the name suggests, it's a lush forest filled with flora, fauna, and abundant butterflies, birds, and mammals — not to mention five unique waterfalls.
Location: Vara Blanca (near Poás)
Costs: Admission & Tour
Difficulty: Easy
Los Campesinos Waterfall
Are you ok with heights? I ask because to access the waterfall and the Los Campesinos Reserve you cross one of the highest suspension bridges in Costa Rica. Lots of trails and swimming holes make this a great day trip within the San Jose province.
Location: near Quepos
Costs: Admission
Difficulty: Easy
Nauyaca Waterfalls
To say this is a stunning waterfall complex is an understatement. Many travel guides rank this as one of the most dramatic waterfalls in the world. Located in the southern Pacific region of Costa Rica, these twin waterfalls are set in a lush jungle and are a must-visit for nature lovers and those looking for a day of swimming and relaxing.
Location: near Dominical
Costs: Admission &/or Tour
Difficulty: Moderate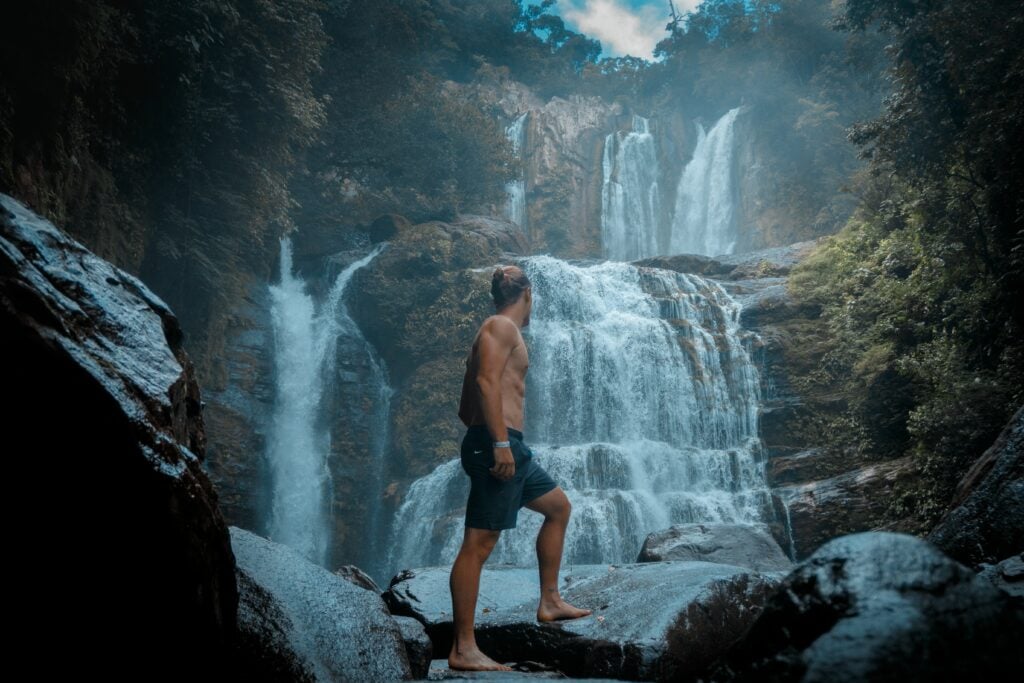 Diamante Waterfall & Cave
Diamante is truly the diamond in the rough — but very hard to access. A three-hour hike up a mountain (not for the faint of heart) culminates in an incredible natural setting: two dynamic waterfalls surrounded by some of the most beautiful jungles in the country. But the true reason for coming is the cave behind the falls. Local guides have set up full tourist settings inside — beds, kitchen, and plumbing. Sadly the falls are only open to those who pay and set up a tour.
Location: near Dominical
Costs: Admission & Tour
Difficulty: Difficult
Las Minas Waterfalls & Natural Pools
Located on a backroad just outside San Mateo, this complex of natural pools connected by waterfalls is truly a local's weekend hang. It's not uncommon on a nice weekend in the wet season to find hundreds of Ticos swimming, jumping into pools from cliffs, hiking, and having cookouts. The spot is next to an abandoned mine complex, but the water seems to be very clean as it's well-used by locals and tourists alike with no reports of bacterial issues. We highly recommend bringing hiking shoes m being fine with getting wet, and leaving all valuables in your locked car.
Location: San Mateo
Costs: Parking
Difficulty: Easy
Los Chorros Waterfall
Like Las Minas, this waterfall is primarily a local haunt. Being very close to downtown Grecia and the Central Valley, it's an easy trip for a nice lunch or afternoon siesta.
Location: Grecia
Costs: Admission & Parking
Difficulty: Easy
---
How many of these waterfalls have you been to? Which of your favorites are missing? We want to hear from you!
And as always: Pura Vida!!!